Teachers Like Coffee
There. I said it. Today  happens to be National Coffee Day!!! Some coffee shops, chain restaurants and gas stations are giving out free coffee today. One of my favorite places, Dunkin Donuts…is not. But that's ok, because they are lowering the price of a medium hot coffee to $0.66 to celebrate their 66th anniversary in business.
In reaction to finding this out, a teacher I used to work with tweeted me this: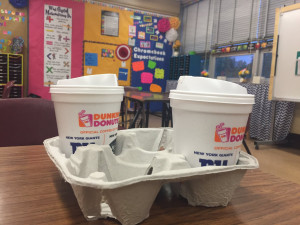 I love that teachers are seeing the questions everywhere! Kelly asked how many coffee's for $0.66 can I buy before it's the same as a large? That's a great question that requires a little research on DD prices and some division for her 6th grade students.
I went around and showed the picture to other teachers and friends and said, what do you think? Here are some of the replies…
How much money will Dunkin' Donuts lose today?

How much money will Dunkin' Donuts gain today because of the promotion?

What percent of people will buy more than one coffee, just because it's cheaper?

I have the DD Perks plan, which gives 5 points per dollar spent and a free coffee every 200 points. How many free coffees is Dunkin' Donuts saving by lowering the price today?

Where's the nearest Dunkin' Donuts?
In Instant Relevance, Chapter I talks about Infusing your life into your lessons. When you bring your love, need, and addiction for coffee into the classroom as a lesson, you're Infusing Your Life.
Chapter S talks about using Sudden Changes to Your Environment as ways to connect today's experiences to your students.. When Dunkin' Donuts lowers its coffee price for a day, that's using Sudden Changes in your classes!
Chapter A talks about Awareness of Your Surroundings. When you realize that you've got the potential for a lot of different question paths from this one experience, you're aware of your surroundings!
Chapter N talks about National Events and Crazes. Today is National Coffee Day! Use your one and only annual chance to connect this day to your lessons, or it will be a long time before you can again. 
I'd love to hear how you used National Coffee Day or other ideas from Instant Relevance in your classes!
Get your copy of Instant Relevance on Amazon!