Are your students bottle flipping? Do you know what bottle flipping is?
Check it out.
Really, bottle flipping is just a fun fad that kids and jobless adults are making a new habit of becoming good at, like throwing cards into a hat back in the 1930s. The interesting thing is that parents and teachers across the country are rising up saying things like
We Must Stop The Bottle Flipping!
This Epidemic is Driving Me Mad!
Holster Your Bottles!
Temper Your Tossing!
Even the Boston Globe wrote an article on the reaction to this new fad.
I'll be honest with you, I'm getting tired of seeing things that are interesting to kids being shut out of their classrooms and their lives. That's why I wrote Instant Relevance! We've got to change our perspectives. We have to take what matters to our students and ENGAGE them with it, not PUNISH them for it.
This is why I'm glad to know educators like Cathy Yenca and Beth Houf and Lucy Shrout who took bottle flipping and asked questions, created activities, and planned how to make learning Relevant with it Right Now!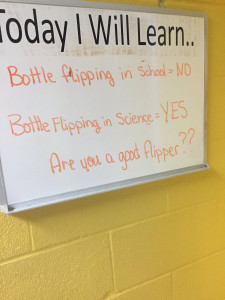 Here is my deep deep plea. 
Please stop taking a confrontational approach to the activities, fads, and ideas that kids love. They're the gateway to deep meaningful learning for our students, our lectures are not. 
#MakeItReal