Zoom does it. Google Meet doesn't…until now.
I've been working with teachers and school districts all summer to prepare for their new reality of Distance Learning and Remote Teaching. One of the major conflicts teachers have had is that Google Meet doesn't allow them to ANNOTATE the screen while they're screen sharing.
The second issue was that most of their students are on Chromebooks, and when using ZOOM on a chromebook, there is no ANNOTATION feature either! So the only person able to annotate a screen during this time was a teacher who was using a PC or MAC.
Well, let me introduce my new Google Chrome Extension, ANNOTATE MEET!
Check out this quick Tutorial!
Pencil, Pen, Highlighter, Spray and Brush
Eraser
Dropper Tool (changes brush color to match selected onscreen color)
Empty Rectangle (for spotlighting)
Solid Rectangle (for Instant Blackboard)
Text Box
Color and thickness adjuster
Clear All
Save (automatically takes full screenshot of current screen with annotations)
Finish Button (closes extension)
GREAT NEWS!!!!!!
Whoever has the Annotate Meet Extension installed can annotate their screen when presenting. Which means your STUDENTS CAN ANNOTATE, TOO!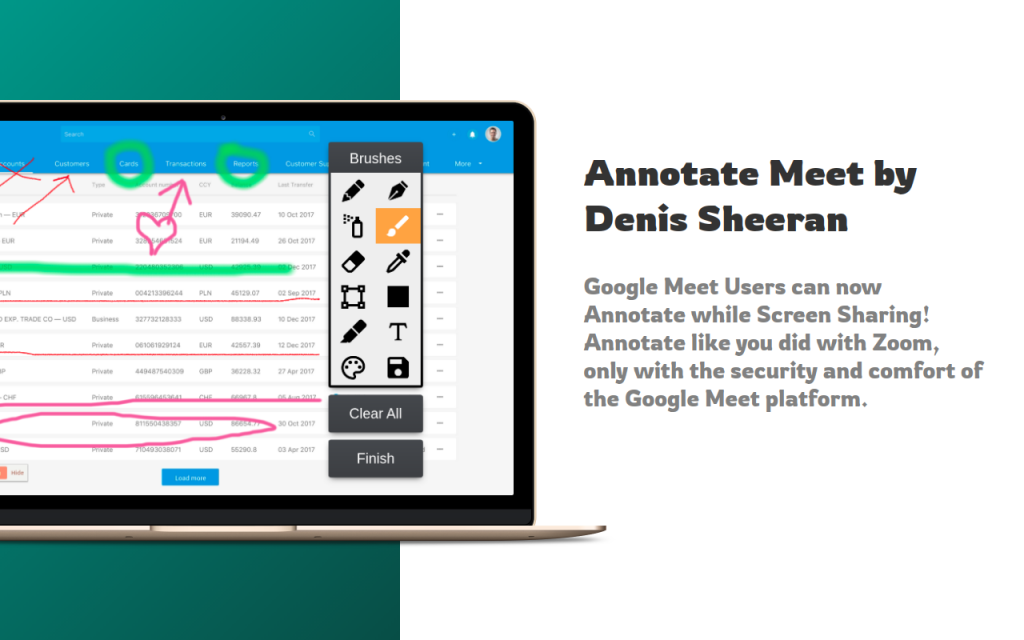 Here's the link to the Annotate Meet Extension in the Chrome Webstore! If you like it, share it and leave feedback so I can improve it!!!