I host a weekly twitter chat called #MakeItReal at 9:30 pm on Wednesday nights. We discuss relevance in our teaching, our content, and our students lives and have just begun a 7 week Book Study on my recent release Instant Relevance, Using Today's Experiences to Teach Tomorrow's Lessons.
Last night, as we chatted about the first chapter of the book, Chapter "I" Infusing Who You Are in What You Do, several chat members chimed in with tweets like this one: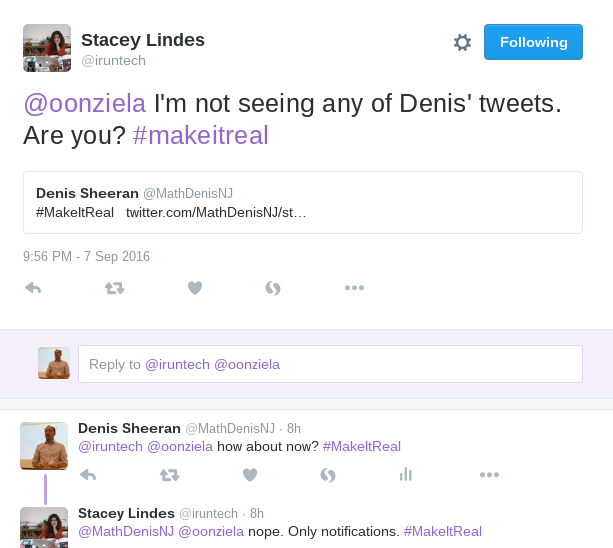 This went on for most of the night. I restarted my computer and tried again this morning during the Breakfast Club chat, #BFC530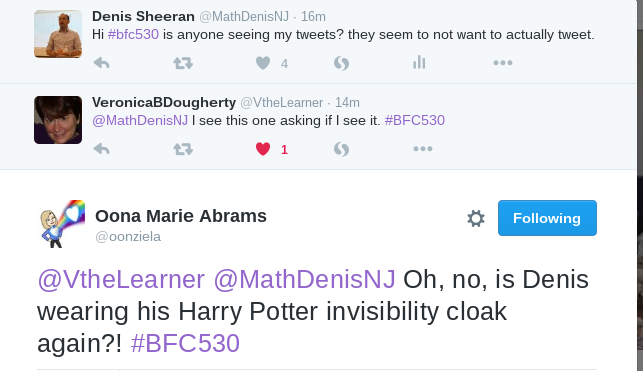 As a host of a twitter chat, I can't have people not seeing what I post, since I post the questions and often answers as well to facilitate. In fact, I use Tweetdeck to schedule my questions ahead of time so that I can engage and interact more with the chat members during the chat time. So I looked into what was going on, and here is what I found.
People have NOT muted me, so it's not that. 
People have NOT blocked me, so it's not that.
I do NOT have an invisibility cloak, so it's not that.
Twitter DOES have a new "quality filter" that decides what tweets you see….it's that. 
But I hate to tell you this, it's not me…it's you. Your Quality Filter may be blocking my posts because they were scheduled, and look like previous questions I've posted (duplicates). According to twitter:
Here's what you need to do:
Go to your Notifications tab:

Click the Settings link, which will bring you here"

If you have the Quality Filter turned on (it has a check mark on it when it's on), turn it off.

Hopefully now you'll be able to see all tweets from all people, even people like me, with lower quality tweets.