A Prompt Reply
When you read the writing of past and current authors and poets, you often see that they are just describing the reality in front of them, only using words so flawlessly that the description transcends the reality itself. I felt like the reality in front of me the other day was transcendent too. That reality was a post on Flow Art Station titled:
Hilarious Winners of the First Annual 'Comedy Wildlife Photography Awards'
Yup. Totally Transcendent. I mean, who isn't captivated by these:
There are  A LOT more of these on the post. I flipped through them, chuckling at some, laughing pretty hard at others and dismissing a few. My kids, however, laughed at EVERY SINGLE ONE! Then as I was putting away my phone because I didn't feel like standing still anymore while two miniature versions of myself stared at my hands, they both asked…
Show us the pictures again…
There it is folks…The #MakeItReal Moment Prompt…Which I PROMPTLY ignored being in my morning Dad mode. I put away my phone and tweeted the list to the universe because every now and then, you just need to share something fun. Later that day, Casey Heitman (@caseyheitman123) dropped this note to me.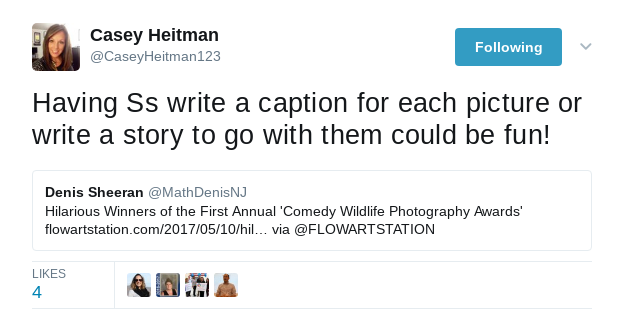 She was right. This was a great opportunity for a writing prompt. From captions, to poems, to short stories, students could capture the reality in front of them and try to describe it so flawlessly that their description transcended the reality we were all seeing.
So later today, I'm showing the pictures to my kids again, and we're having a caption contest. I can't wait.
MY QUESTION: HOW CAN YOU TAKE THE FACT THAT STUDENTS LOVE SILLINESS LIKE THIS AND TURN IT INTO A CHANCE TO WRITE CREATIVELY? IN OTHER WORDS…HOW CAN YOU #MAKEITREAL?
What are three ways you could use this moment and moments like it in your classroom to add relevance to a lesson?