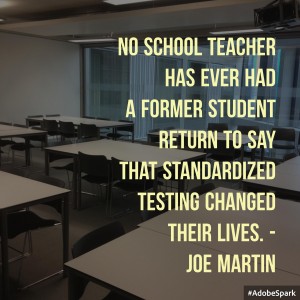 A little while ago I sent out a survey to teachers asking them to share stories of how their lives and the lives of their students were affected by time spent together outside the classroom. As the 2015-16 school year comes to a close, I'd like to share those stories, starting with one of my own. These are what we and our students take with us in our memories and that even change us as people for the best. Enjoy the stories, and if you have one of your own, please fill out the survey link at the bottom of this post, and thank you for all you do for each student you meet each year!
My Story: Morning
A few years ago, I decided to sit silently in our school's atrium on Monday mornings to see the sunrise and think quietly to myself about the week to come.  A student saw me and asked what I was doing and then said if I didn't mind, he'd like to join me. I offered the opportunity to all my students. Some came every week, some came intermittently. We never spoke, just sat quietly to prepare for the week. At the end of the year a student said, "the silent mornings will be one of my best high school memories. I'll probably never tell anyone what I was thinking about during them, but I needed those times." One of my greatest impacts was on a student, outside of our school day, and we never spoke a word to each other.
Jennifer Fairbanks, @hhsmath: Relay for Life
I have been on our Relay for life committee for 9 years. It is mostly organized by students. They do an amazing job working for a year to get ready. It is so touching to see them walking through the night to fight this battle. I also volunteer as a youth minister at our church. I live in the town where I teach and attend church, so all the kids are the same. Our youth group does monthly activities that are a combination of fun and service. We are in the process of planning our fourth mission trip in July. We will be traveling to Queens with 62 kids and 10 adults. It is so incredible to see the youth outside of the school environment. They are hard workers and I am greatly moved during our week together. They make me so proud!
Chantell Manahan, @cmanahanahs: Kindred Spirits
I coached the Academic League at my previous school for three years. While a few of the team members were the typical high-achieving students, many were more of the misfit, slacker, gifted student variety. I seriously had to check the grades of my players before each match to ensure they were eligible! While we practiced two days per week, these students wanted to spend more time with me. It was an unusual day when they weren't in my classroom for at least half an hour after school, finding in me a kindred, geeky spirit. The bonds we developed were amazingly close! One of these students came to me in tears after school, days shy of graduation, to reveal she was pregnant. Sobbing, she explained that she felt better and that she could face telling her parents. Another student struggled with depression, which his parents and guidance counselors were well aware of as well. When he decided to cut class and leave school early one day, he called my classroom about 30 minutes later to talk on the way home so I could let everyone know where he was and that he was safe. They shared their hopes and fears, their successes and failures with me for those years, and I'm privileged that they have all reached out to me to stay in contact as adults.
Stephan Hughes, @stephwurking: Housecalls
What better way to get adult Brazilian learners of English to sharpen their speaking skills than to have a get together out of the classroom context? An idea that my students jumped at when proposed. It gave them the chance to really learn how to socialize in English since their first language is Portuguese. Once a month we would get together at a student's house (he kindly opened his home for the event), rent a video, order some pizza and drinks and talk about everything and anything. The crowning moment was after the movie when we would talk about the story and about aspects of language – grammar, pronunciation, vocabulary, discourse strategies – that they were able to pick up. They probably learnt much more in that "social event" than the regular twice-a-week, hour and a half classes. But what students valued was that I took an evening of my personal time to spend with them. What they called "passion" for the profession and for their success as language learners.
Rachel Murat, @apgovme: Food Pantry
I run a food pantry that feeds 100 district families each week. I have students who help me shop, pack bags and fundraise after school, at night and on the weekends.
Caroline Vila, @msvila: Sharing
Over the years I've done a few things, here and there, to connect with my students, teach them something outside of the curriculum, or just enjoy life a bit more with them. Here are a few examples:
I've made for my students my special guacamole, and even shared the secret ingredient with them.
I've helped a former 7th grade student write her college application essay – that was a very special moment.
I've shared my travels to Uganda and Nepal with my students through pictures, powerpoint presentations, and stories.
I break away from the planned lesson and have "real talk" moments with my classes. These tangents probably happen more than they should. Students love them though.
I have a teacher Facebook page where I can connect with former students.
Oona Abrams, @oonziela: Backchanneling
I've loved having students post their reading thoughts to the class backchannel on Twitter. As they read and tweet their responses, I've been able to respond with connections and reflections in real time. It's great for them and me, because we literally are learning outside the classroom "in real time."
Doug Baker, @mentorshore: Take-out
Fridays this school year I have been delivering food to the household of one of our families that struggles to put food on the table each week. Every Friday our local #End68HoursofHunger group puts together bags to be picked up or to be dropped off depending on the capabilities of our families. I know this has made a difference for that family each week.