We like the number 11 in our house. It's common in birthdays, lucky numbers, etc… So As you finish the 2014-2015 school year, here are 11 places you can investigate to find lessons and activities for 2015-16.
1. Teacher Desmos: https://teacher.desmos.com/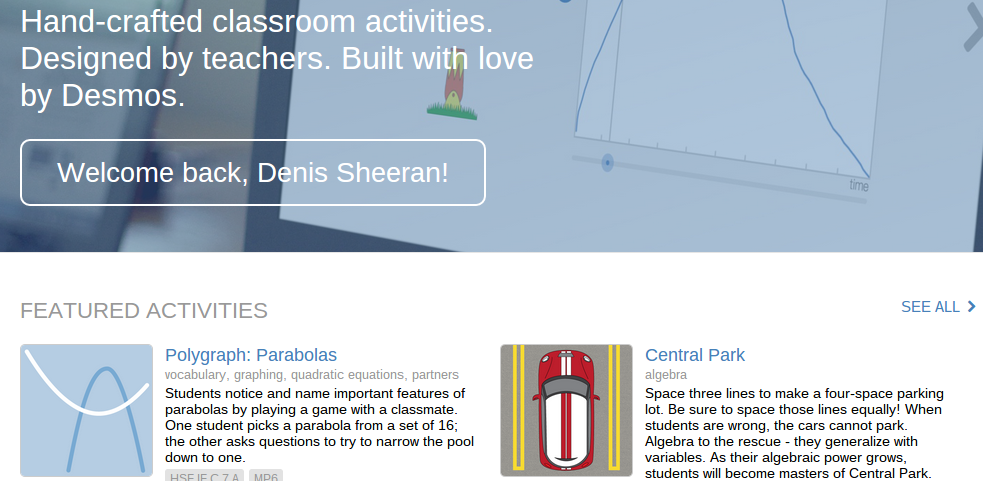 First and foremost, Desmos itself works do develop high quality activities with great teachers like Dan Meyer, Michael Fenton and Andrew Stadel. Create a login by syncing with your google account, and individualized links to teacher activities for your classes will be created for the activities. Follow Christopher Danielson (@trianglemancsd), the driving force behind much of this site's activities.
2.  Get on Pinterest and search Desmos and you'll find many great pages dedicated to Desmos activities, and even more great pins.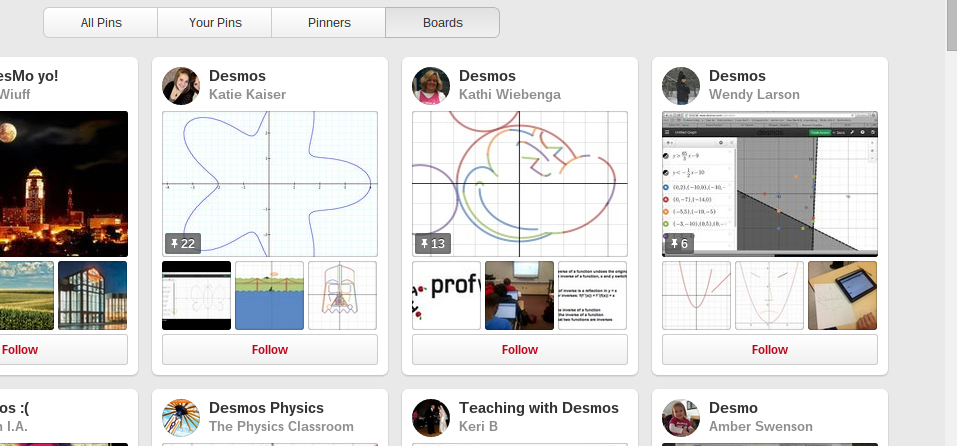 3.  Michael Fenton @mjfenton has been creating great lesson and posting them on his blog, www.reasonandwonder.com. Just last week he joined the Desmos team full time, a dream so many of us have 🙂 Check out the blog and lessons.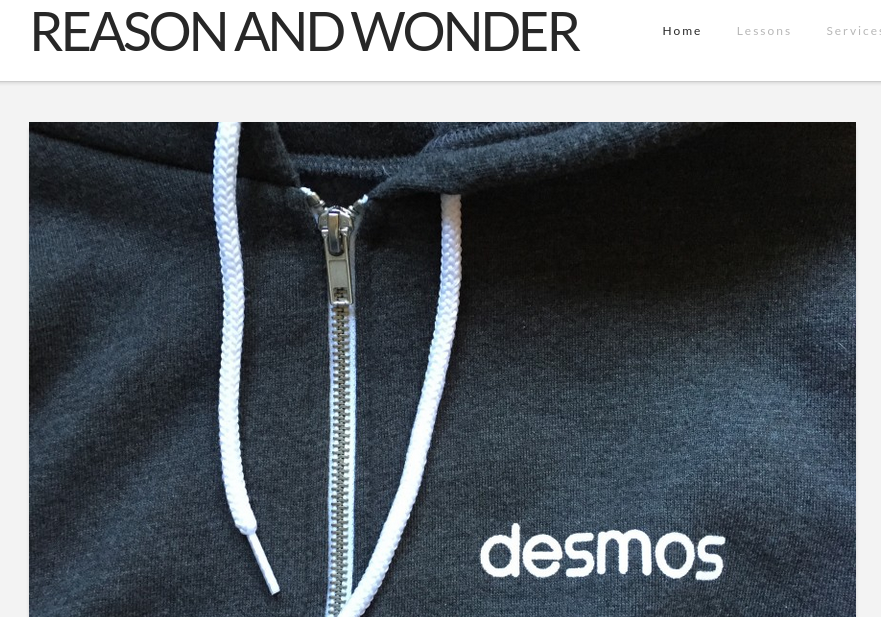 4.  Follow @Desmos on Twitter, and occasionally search the hashtag #desmos and see what your colleagues around the country are creating and using.

5.  The Math Coach Blog, by Bob Lochel (@bobloch): http://mathcoachblog.com/desmos-classroom-file-cabinet/ has a file cabinet of links curated from his own creation and from teacher submissions that are great for demonstration and interaction.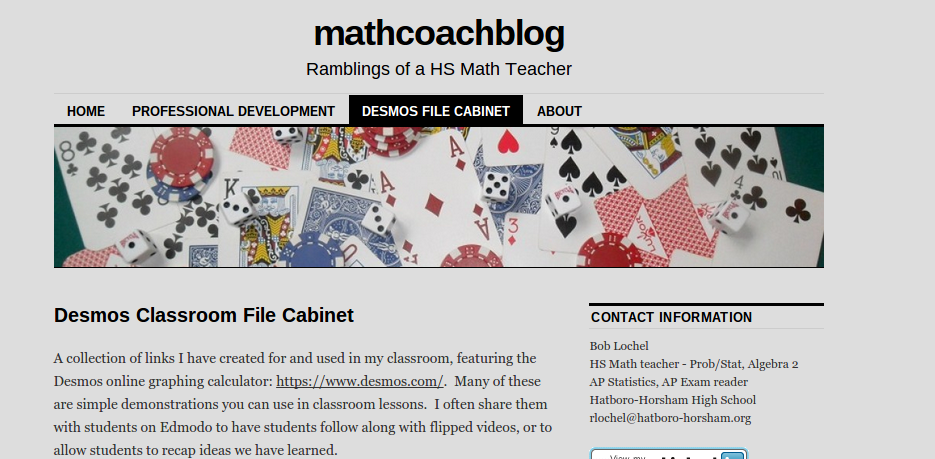 6.  Chip Rollinson from Cambridge, Mass has created a blog page called Dynamic and Dynamite Desmos Demos. It's well organized and has many of the classroom demonstrations we all used to do by hand that can be shown to the class, individually investigated in a 1:1 environment, and linked to your website.

7. If you're looking for calculus demos, here is the first of two places you'll want to go. Patrick Honner (@mrhonner) has mrhonner.com and a Desmos Demos page worth spending some time on.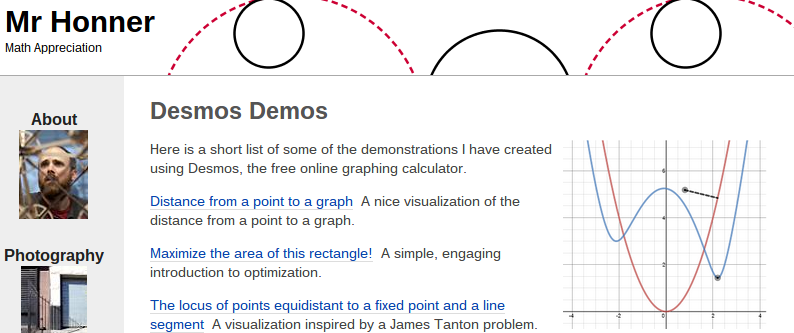 8. The second page has great 3D animated models on Desmos. Geoff Patterson (@geoffpatterson1)has outdone himself on his website: http://www.geoffofx.com/solids-of-revolution.html. These solids animations (and other links as you look around the site) enhance student understanding visually, and taught me more about desmos use than any other site. As a teacher, I encourage you to not only use the demo, but look through what was done to create it, and learn.

9.  Desmos has done it again by curating a list of activities as Explorations. They're organized by math topic and can be edited and adapted by you. Go here: https://www.desmos.com/explore/ and do exactly that: EXPLORE!

10. Glenn Waddell (@gwaddellnvhs) has a page full of statistics and other activities and links to many of the other teachers he knows use Desmos, too.  Visit his blog http://blog.mrwaddell.net/ and take some time to investigate.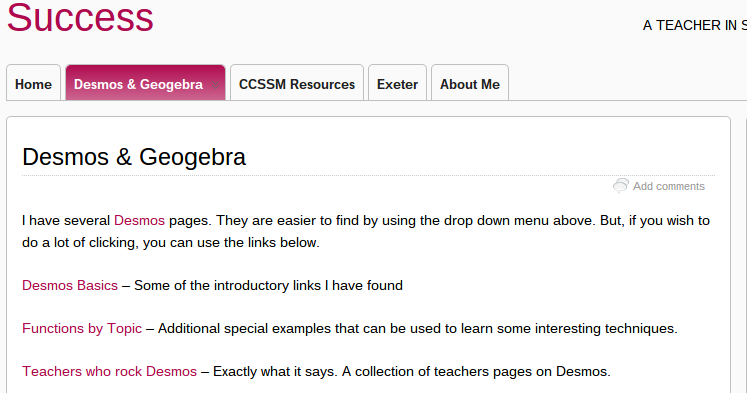 11.  Finally, The Daily Desmos site is creative and challenging and fun and can be found here: http://dailydesmos.com/ where a Daily Challenge is posted. Use them for yourself to engage with Desmos, or for your students every day!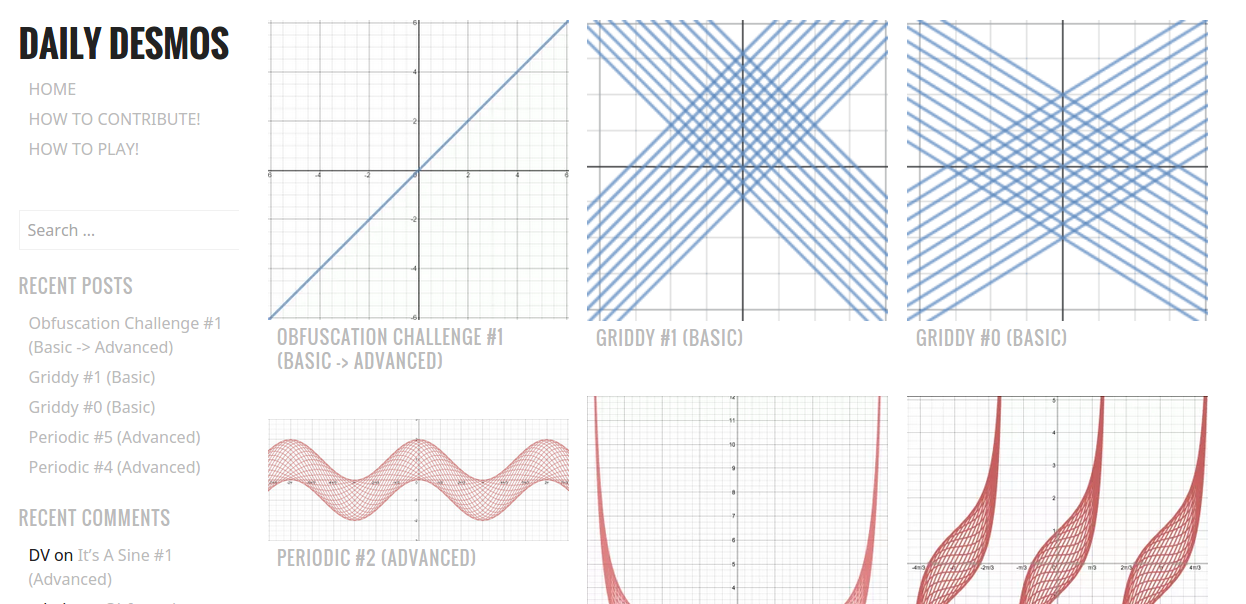 I hope you'll not only enjoy learning about and using these activities, but will soon become a contributor to the Desmosiverse (copyrithg